Posted on
By Veronica Ing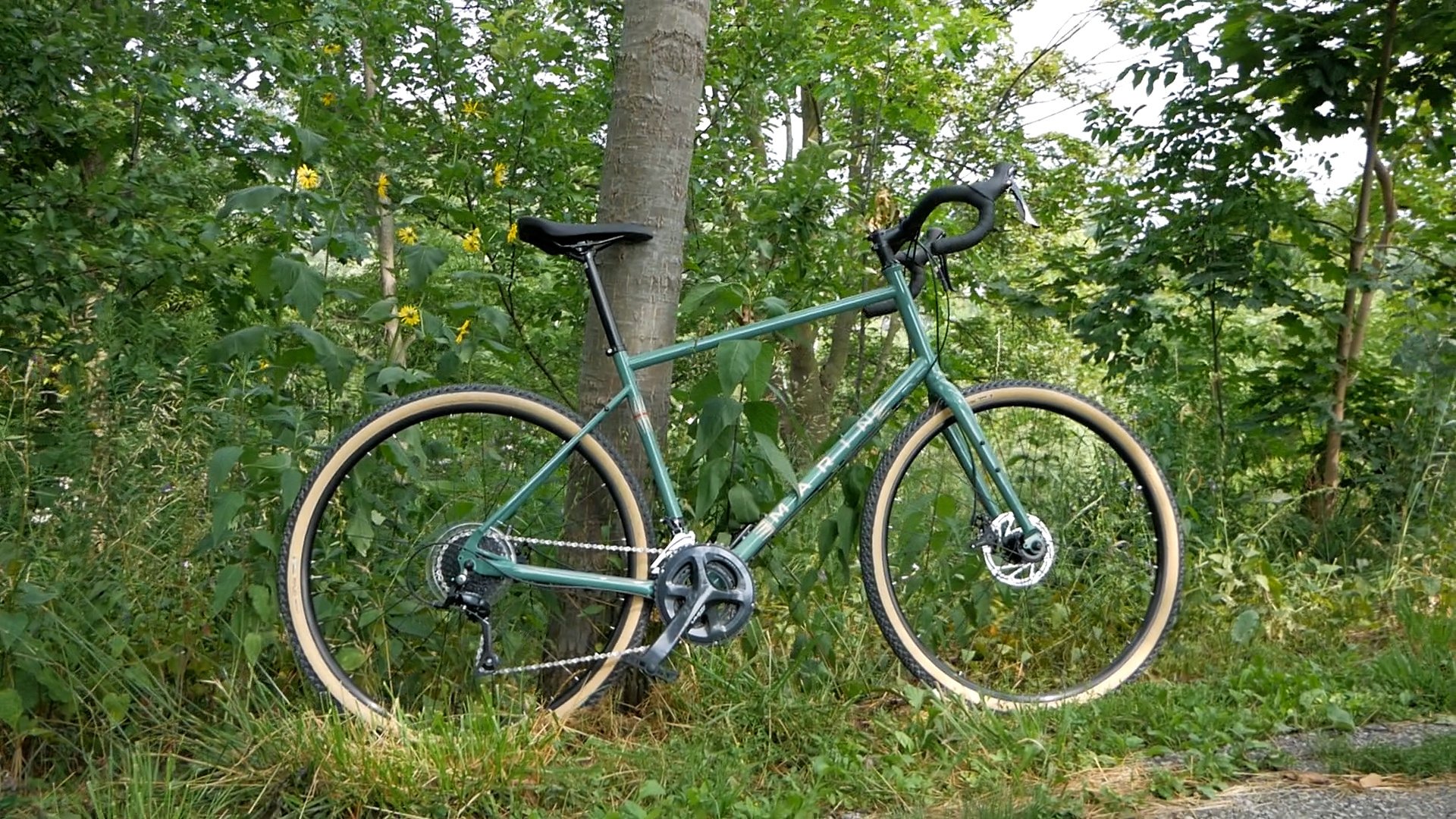 The needs of bike commuters and bike tourers might seem pretty different on the surface, but if you think about it for a moment, they're not so different after all!
"Should my next commuter be a touring bike?" To a lot of folks, this question seems a bit silly at first! Of course, the image that comes to mind for a touring bike and a commuting bike are likely going to be pretty different. The image that comes to mind of the type of person looking for a touring bike and the type of person looking for a bike to commute on every day are also pretty different!
However, when you start to make a list of things that make a bike great for commuting, there are a few things that are pretty obvious right away. You want something strong, sturdy, and durable, with generous carrying capacity. You want to make sure the parts are robust, and that you'll be comfortable riding it, and placed in an ergonomic position while you're in the saddle. You want the components to be easily replaceable if they should fail – which you hope they won't – and last a long time. While you're writing these things out, you might quickly discover that this list is very similar to the list of things that make a bike great for touring!
With both touring bikes and commuting bikes , reliability is absolutely the name of the game. If you're on a bike every day, you want to be sure you can rely on it without too much oversight. The same goes for a bike you'll be riding for long distances and long stretches of time.
Let's take a closer look at each of these attributes one at a time.
Strong
Touring bikes need to be built strong to stand up against the type of riding you'll often find yourself doing on a long ride. They're designed to endure all types of terrain, all types of weather conditions, and all types of obstacles you might encounter on your journey. On top of all that, they're designed to withstand all these challenges while fully loaded with all your gear! Being purpose-built to be strong is intrinsic to touring bikes, and that quality also makes them perfect commuters. Carrying your laptop and a change of clothes for the office across the pothole-ridden city streets of Toronto on a 7-kilometre commute is basically the exact same thing as bikepacking your way through rough singletrack to Nova Scotia, and you'll definitely be wanting a strong bike to do both on.
Sturdy
Whether you're weaving through rush hour traffic or on a multi-day ride, it's imperative that your bike isn't knocked over by a stiff wind. A feather-light racing bike might feel easier and speedier to travel on, but in the roughest weather, you'd be wishing it were a bit more sturdy. Touring bikes definitely skew burlier than a road or racing bike for this very reason. More mass, a lower centre of gravity, robust tubing, and chunkier tires all work together to make you very hard to knock off course while riding. An important quality both in the city streets and out in the wilds. It's inevitable that you'll encounter inclement weather when cycling, no matter where you're doing it, and making sure your bike can stand up to it is all a part of having a great ride.
Of course, in both cases, you can also make sure you're more comfortable and presentable with a rain poncho that keeps your lower half dry while riding too. Check out our selection of Cleverhood rain capes and accessories! ;)
Durable
A strong and sturdy bike will often be a durable one too. But here, we've got to look at the longevity of the frame itself on its own. An oft repeated phrase in many a bike shop is the old adage, "steel is real". And this remains oft repeated because it's true! The frame of the bike has to be able to stand the test of time, and steel is a great material at doing this. Steel is great at absorbing shock and impact on any terrain without it compromising the integrity of the material itself. Even when it takes a beating, it withstands repair well. With the intensity of the labour involved to repair scaling proportionally with the severity of the damage, there will generally always be a way to fix problems that may arise. While other frame materials aren't necessarily disposable or fragile, the lifespan of an all-steel bike tends to be much longer because of the combination of a fatigue limit –meaning they can withstand stress below the fatigue limit an infinite number of times, but also that any non-fatal dents and bends won't mean any loss to structural integrity. As long as you take care to check on any damage, are proactive about rust prevention, and make appropriate repairs, you just can't go wrong with steel frames.
Serviceable
While of course the dream is to have a bike with parts that will literally last forever, this is not a dream that is grounded in reality. Everything has a lifespan. Including you! But like the Ship of Theseus, you can make a strong, sturdy and durable bike frame live forever (unlike you) by swapping out the parts. Finding a bike with strong part serviceability and interchangeability means that even as the bike industry changes and progresses, you'll always be able to find parts that you can make work with your bike. Whether you're on the road for one hour or eight hours at a time, you want to make sure that the parts on it can be swapped out for other parts, either in a shop or by the roadside.
Generous carrying capacity
Being able to haul a ton of stuff efficiently is one of the many great joys of riding a bike. A lot of us will start off with a backpack, before discovering that a wet, sweaty back is not the best look in a professional setting. The inevitable next step is to move to either a front or rear rack or basket, before going all-in on a rack and set of panniers. We've all been there. The personal threshold for looking like a bike-loving dork becomes much lower the moment you see how simultaneously efficient and comfortable distributing *whatever it is you need to carry* along the bike frame. You might want to haul groceries for the week with you on your way home from the office, and realize that you can't put it all in just one pannier, or only in the front basket, because each of these components have a limit to their carrying capacity. Enter the touring bike. There's an opportunity to do it all on a non-cargo bike. They're built to be tough enough to carry everything you need to the next campsite, and with the right equipment, you can also pack up everything you need to study all day at the library and grab food for the week on the way home. Between feeding a family of five or being the place you call home for five days, the generous carrying capacity on a touring bike gives you the opportunity to haul like never before.
Comfort
It makes total sense that a bike that is designed to be ridden for a long span of time would be comfortable! If you're going to spend a long day in the saddle, it'd be hard to do on something that wasn't comfy to sit on. Touring bikes are often built to have things that you'll need on a long ride right out of the box such as appropriate support across the sit bones, a wide range of gears so you're always pedaling efficiently, a less aggressive riding position, multiple hand positions for relief in the wrists, elbows, and shoulders, and shock absorption for the bumps you'll encounter on the ride. All these design choices mean they're also comfortable for short rides too! Not all commutes are built the same, and some rides to get to school or work could take 12 minutes, and others might take 40. No matter how long you spend on the bike, you want that time to be comfortable. That's where the engineering that goes into making a touring bike comfortable comes in! And no matter the distance you're riding, there are always opportunities to make it all more comfortable by getting a bike fit. Those decisions all contribute to a ride quality that makes it easy not only to ride to your daytime destination, but also help you travel further than ever by bike. This can look like doing long inter-city weekend rides, or off-pavement adventures, but also taking you through all-day errand runs with the same level of comfort you have on a short ride. Unlocking the ability to independently travel far and do a lot of things by bike can be extremely liberating, empowering, and rewarding for anyone, and making a touring bike your daily ride can be the gateway to that.
In Conclusion
Many commuters come into the shop with a wishlist of traits they want their dream bike to have. They are also often surprised when we make the suggestions we do. They think that perhaps we are trying to upsell them on a bike that overperforms for what they need. In reality, however, when you look at the things that a commuter needs from their bike, it's not altogether different from that of a bike tourer. The bikes that both these groups need are robust, comfortable, and hard-working. The everyday rider and the long distance rider know that they are definitely going to be putting their bikes through the paces, and pushing not only their own comfort zones but the limits of what bikes can do! Having a bike that can do it all also allows the rider to do it all, and being able to do anything doesn't mean you have to do everything! But having a bike that's capable of working hard at any scale means that if your cycling needs ever change, you'll be able to try doing anything you want to, and know your bike is able to do it too.

Here are some of the best do-it-all bikes we have for both commuting and touring:
We also took a closer look at the Marin Four Corners in this Bike Fast Facts video: