Select Fit - $75 - 45 min
Take the guess-work out of saddle choice, stem swaps or cleat positioning.
Small changes make a huge difference. If you're not sure how to nix that back pain, or want to try a few saddles all at once, this is a great fit for you. We'll discuss your bike's geometry, your riding style and what your comfort and riding goals are while we dial in your ride.

Full Fit - $175 - 1.5 hours
A holistic view of your bike fit.
Bike fit is at it's best when all the moving parts come together. In our time together we will map out how you want to feel on the bike and focus on all the contact points across your bike (pedals, saddle, handlebars) to tailor your ride to your body measurements and style. 
How to book: At peak season, we do have a waitlist for fits. Fits take place on Sundays and Thursday evenings. To get onto the waitlist, please email [email protected].
Parts and Accessories for Fitting: 
Urbane stocks saddles from Fizik, Ergon, Brooks, Terry, Selle Royal and ISM for sale and as demos in our saddle library. In stock pedal and cleat systems from Shimano, Crank Bros and Time are available, as well as stems and cockpits from Salsa, SimWorks, Dimension, Velo Orange and many more. 
Currently fits are available with Adam and Samantha. Read more below about our fitters and what makes them passionate.
A Note From Adam: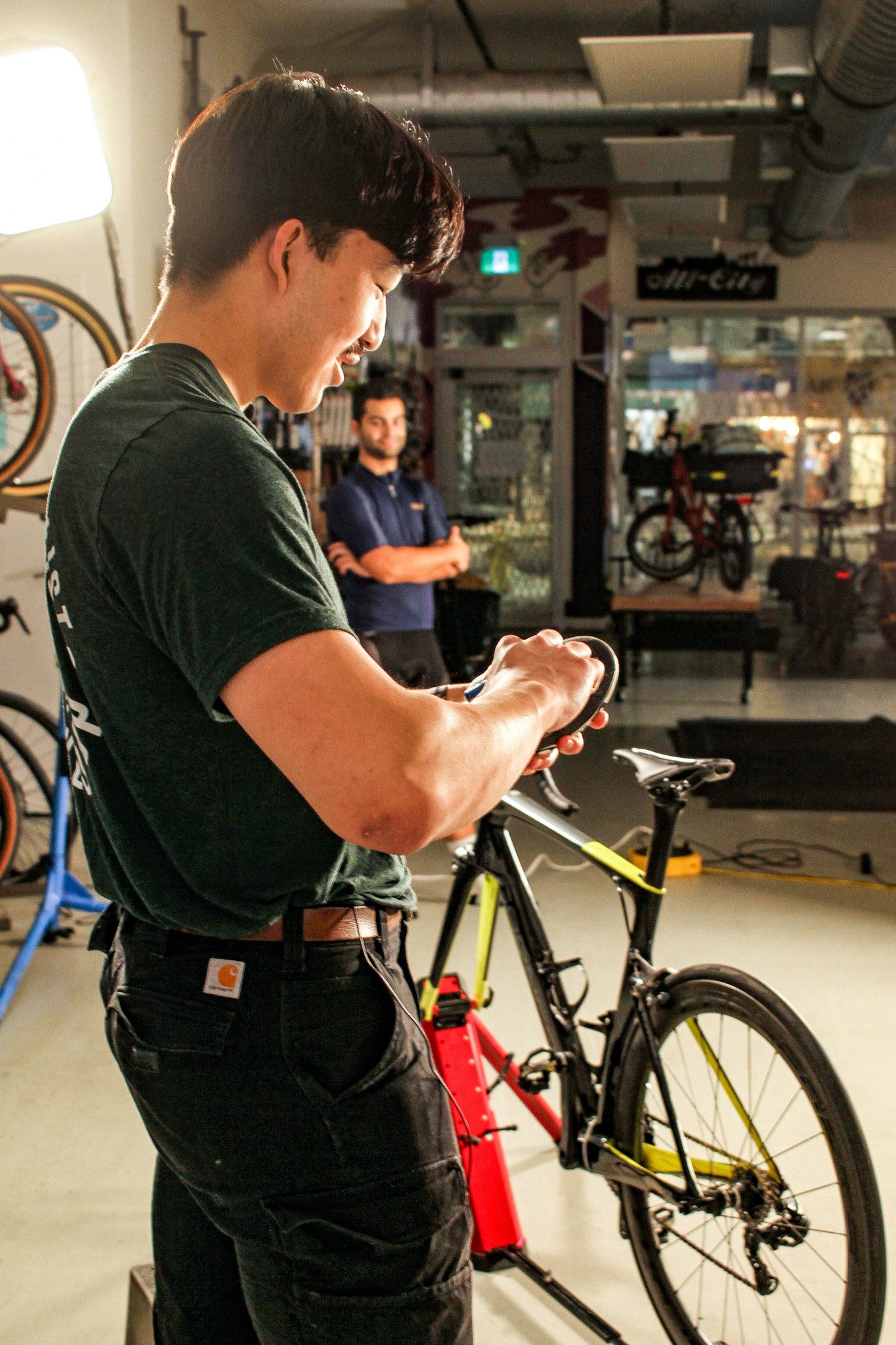 As Urbane's newest bike fitter, I've been privileged to work with Samantha, our senior bike fitter, over the past few months and have been following her footsteps and philosophy towards bike fitting. I strive to make the bike fitting process comfortable and accessible to all kinds of cyclists whether you come from a commuter, road, touring, or fixie (... and more!) background.

With training from Bike Fit Canada and as a current physical therapy student, I take pride in applying modern principles of bike fitting while putting emphasis on educating you on the adjustments I make, so that you're better able to understand the connection your body has with your bike. I strive to create a working relationship with you where I am able to help you address your aches and pains, even beyond the realm of the bike. Ultimately, I want to see you satisfied after your session with a newfound excitement to ride your bike - let's reach your cycling goals together!

A Note From Samantha: 
My approach to bike fitting at Urbane is a little different than what you'll see at other shops. With training from Bike Fit Canada, I am applying up-to-date fit skills and measurements to touring, commuter and adaptive bikes, rather than focusing only on road cycling, speed or performance oriented cycling. 
I'm here to help with the bike you ride the most. Often, folks will commute for 40-60 minutes on a day with a set up that hurts their back, bum or knees. Not only is it uncomfortable to ride on, but a poorly fitted commuter can impede handling and be unsafe to ride. When you are less distracted by discomfort, you will be more attentive to your surroundings and can arrive at your destination with ease and comfort.
Touring Bikes are designed differently than standard road bikes and should be fit accordingly. Why fit aggressively on something that's supposed to be comfortable and stable? With touring fits, we can experiment with different cockpit configurations, saddles and cleat adjustments. Whether you're building something up or making an old thing feel renewed, our selection of touring parts are ideal for improving handling, load distribution and long days in the saddle. 
For folks that need adaptations to make their bike or trike work with them, we stock a range of parts from Hase, HP Velotechnik, Terra Cycle and other small distributors. Together, we can talk about how to make you comfortable and confident on the road. If you are unsure and need further assistance, talk to an occupational or physical therapist, have them reach out."
Bike Fit Toronto