Urbane Cyclist Co-op is a worker co-operative bicycle shop owned and operated by
its Worker-Owner Members, who work alongside other full time and part time employees. Our Membership meets regularly to discuss and decide on "bigger picture" visioning of what Urbane Cyclist is, and will become. Our Worker-Owners give life to our store! Each member's personality, interests and joy make up our shop's special sauce and contributes to the consensus of our direction and purpose.
Here is who we are: 
 Brenden (He/Him), Parts Lead, Parts Purchaser: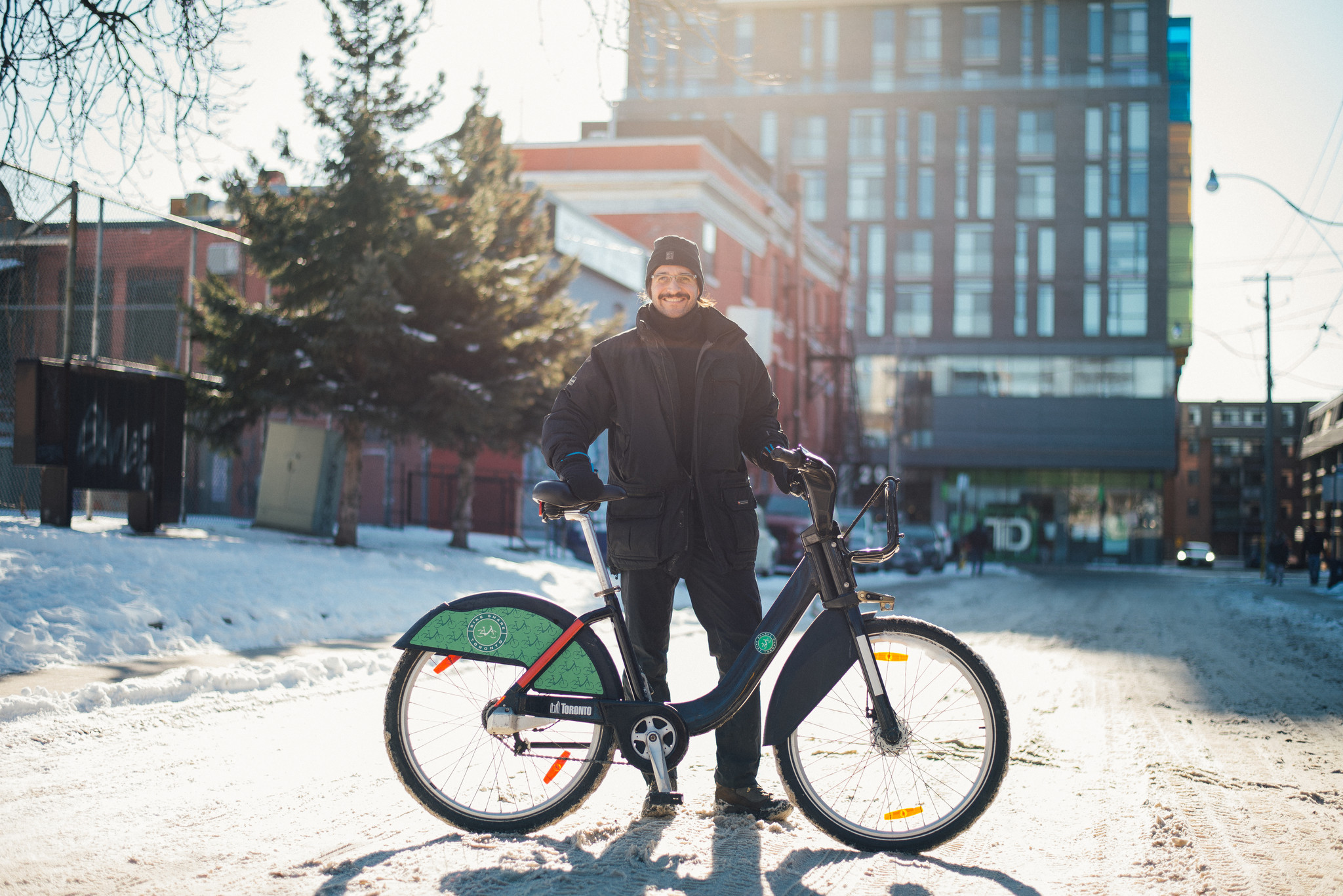 "I was born and raised in East York, and have lived within 5km of lake Ontario for 35 years! My father is an old school Fred, who introduced cycling to me at a young age and taught me to love life on two wheels. As I grew, cycling grew with me and offered me a level of freedom in moving around East York and Scarborough that I've never relinquished! Working as a teenager and young adult at D'ornellas Bike Shop introduced me to Eon D'ornellas who taught me the hustle required to make a bike shop successful, and helped develop pride in helping people get the best bike and best parts for any ride. My hobbies outside the shop include pathological Raptors fandom, shredding gnar and taking long walks in the neighbourhoods, ravines and valleys that define Toronto."
Nickname: Doc
Current Bikes: Focus Black Forest 29er, Land Shark Road Shark, Marin Cortina AX 2, Norco CCX, Norco Tactic
Eoin (he/him), Service Lead & Head Mechanic: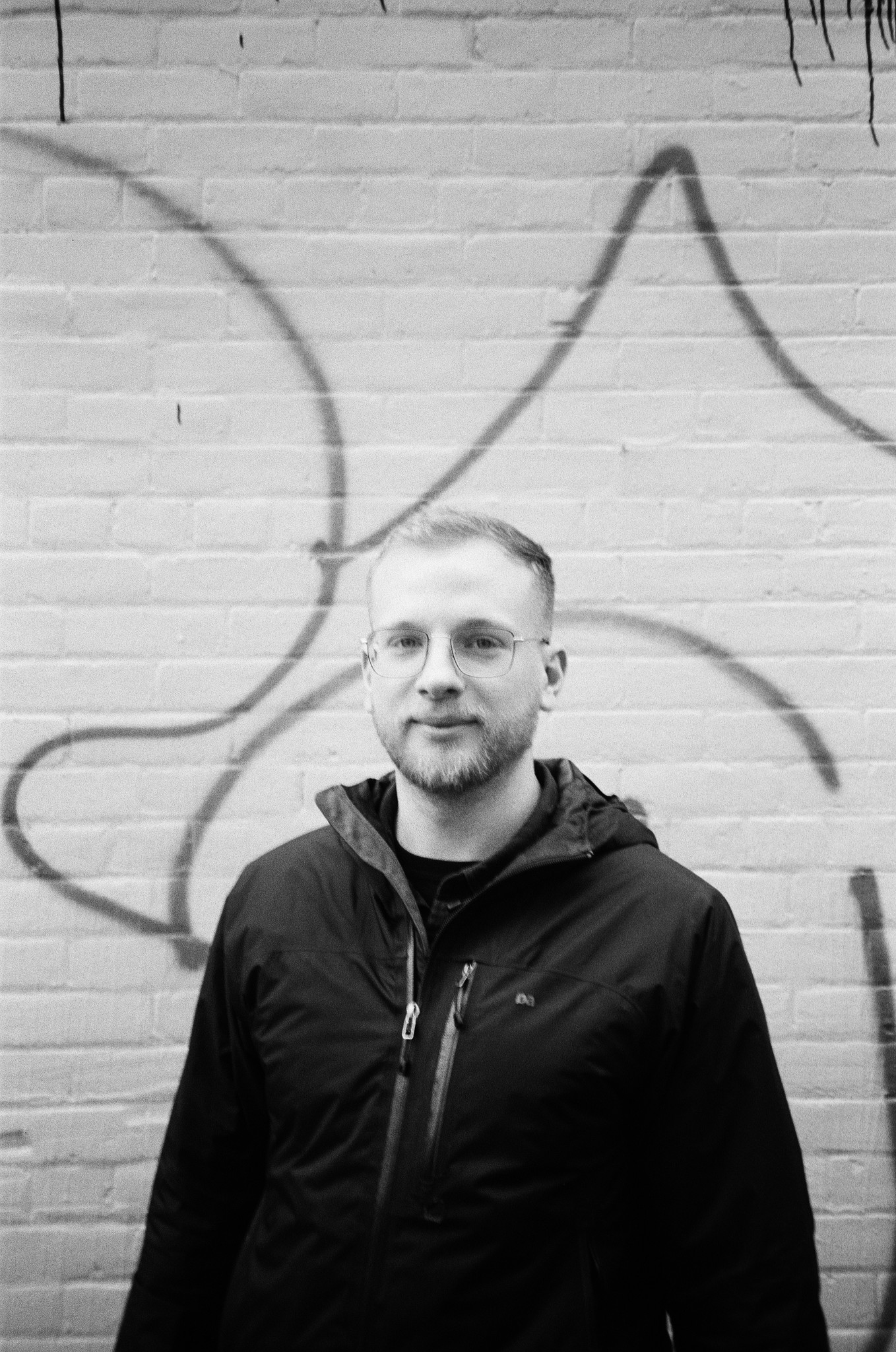 A longstanding member, Eoin is currently our Service Department Manager & Head Mechanic. 
Current Bikes: Marin Nicasio Ridge w/ SP Dynamo and B&M lights, Marin Nicasio RC Winter commuter with Alfine Dynamo and B&M lights, Soma Rush "track" bike w/ Deore XT 10-speed drivetrain
Owen (he/him), Sales & Marketing Lead: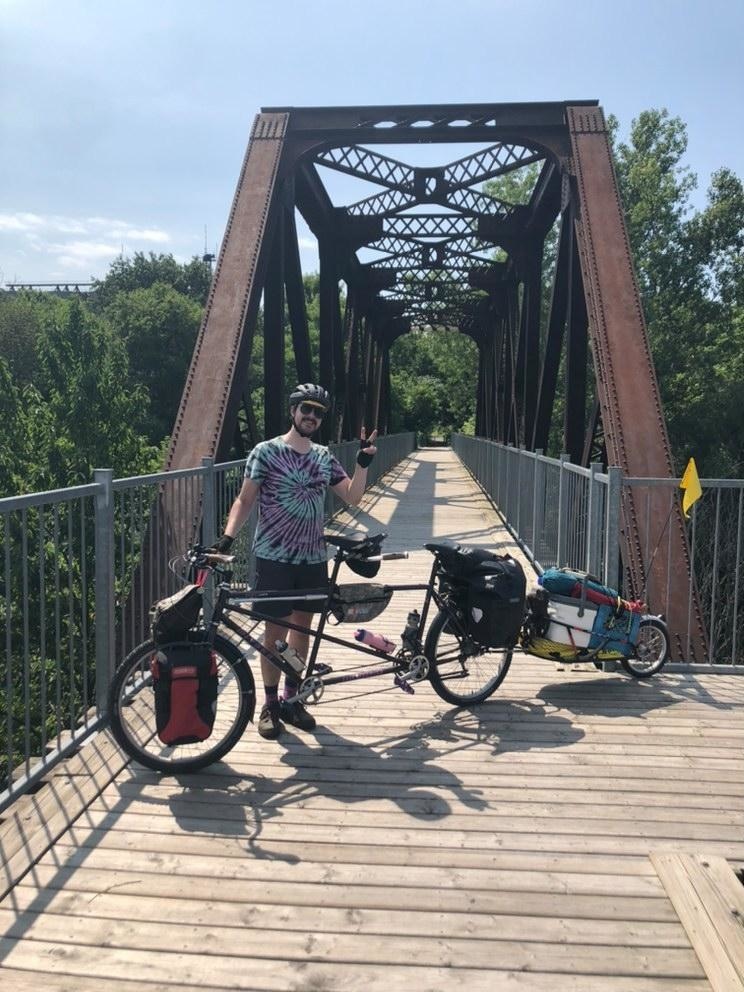 "I've always been somewhat fanatical about bikes, I got my first bike at age 3 and haven't looked back. When I began commuting by bike in high school I felt the joy and excitement cycling could offer and my original cycling obsession returned only stronger this time! During my time at OCADU I began working at Cyclepath Danforth to help pay for my tuition (and bike parts...) and I began to properly explore the Don Valley trail system and I discovered my love of riding off-road. I am lucky that through my work at Urbane I get to introduce people to all the different types of fun cycling has to offer everyday. I also lead rides with Urbane Adventure Club so hit me up if you want to join! I am a gear nerd and retro-grouch which shows on most of my bike builds; usually pieced together bit by bit with a mix of old and new and some kooky twist. My excitement about bikes is a bit contagious so watch out!"
Things I like in a bike: Big tires, Wide bars and Steel frames!
Reba (she/her), Admin Lead and Sales: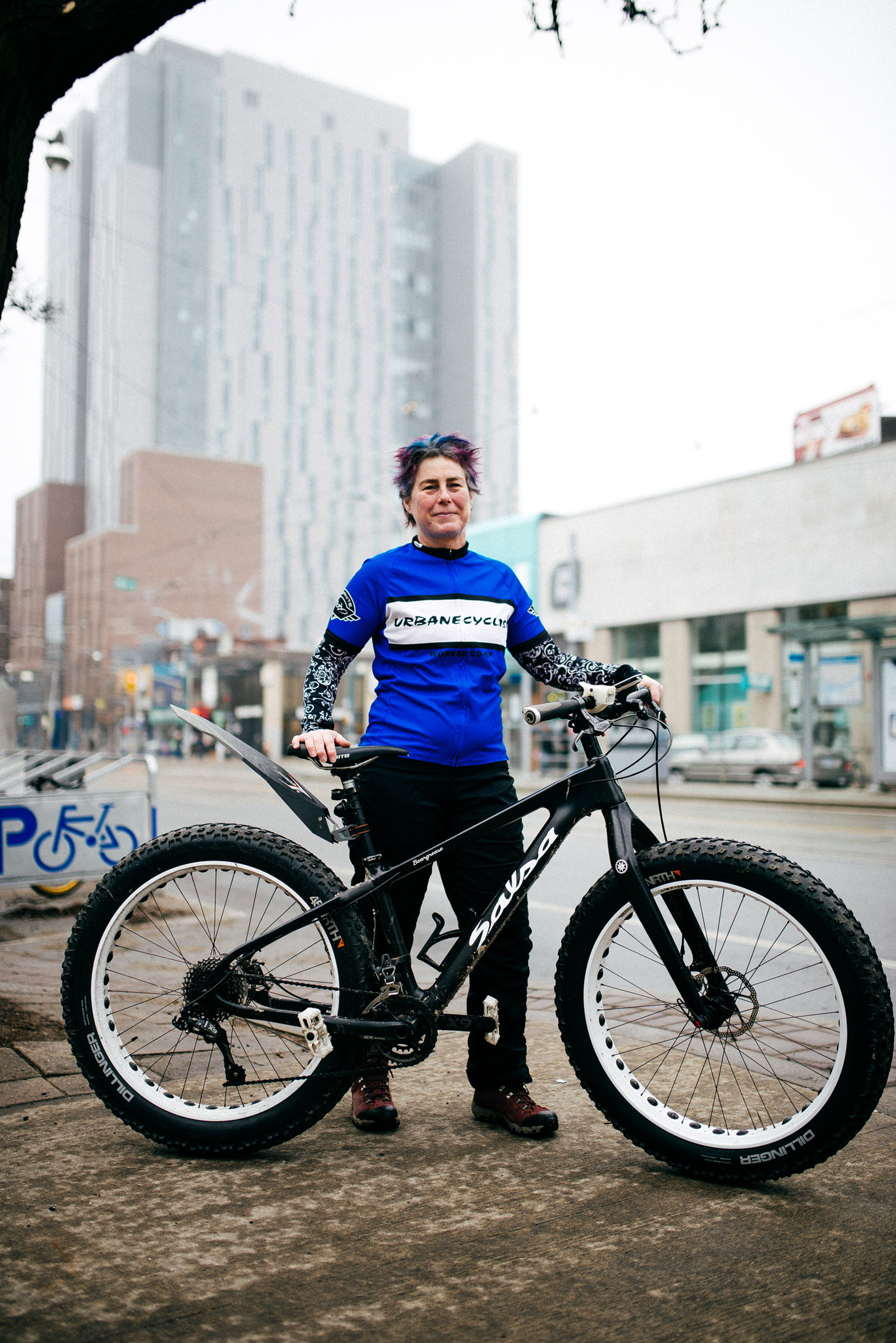 "I don't remember a time when I didn't have a bike. Biking is freedom! Freedom to travel, exercise, work, haul stuff, and just have fun. I got into bicycle riding year round in 1987 when I started working as a bicycle courier. Who'd have imagined that you could get paid to ride your bike? Since then I have fully immersed myself in the bicycle industry as a bicycle mechanic, store owner/co-owner/co-operator, a bike adventurer, a bike tour leader, an advocate, and most importantly a bike rider."
Current Bikes: Bianchi City Bike, Devinci Destination Touring Bike, Salsa BearGrease Fat Bike, Breezer Folding Bike, Urbanite Commuter, Bilenky Cargo Bike, Burley Rivazza Tandem
Sam (she/her), Sales Lead & Bike Fitter: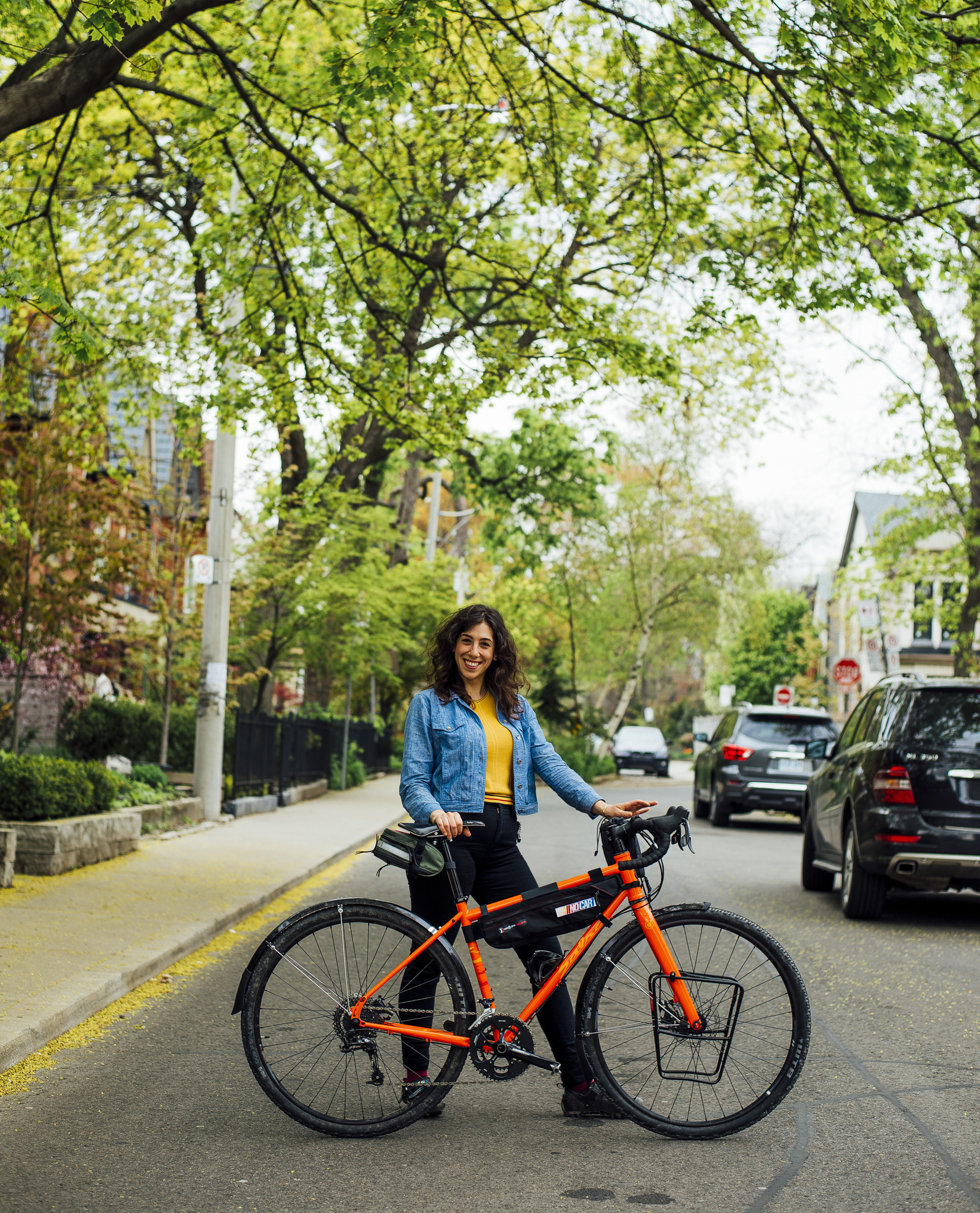 Are you stoked about finding the best bike? Sam might be stoked more! Sam believes that cycling is for everyone, and is happiest when she can empower people to ride more. When not biking, Sam likes to read, weave on her loom, find vintage skorts, play Joni covers on the guitar and camp with friends.  
Nicknames: Salami, the Star Chairman, Bike Therapist.
Current Bikes: Velo Orange Polyvalent Low Kicker Custom, Surly Bridge Club Winter Commuter Edition, Shreddy Urbanite Junction.
Sasha (he/him), Service Lead: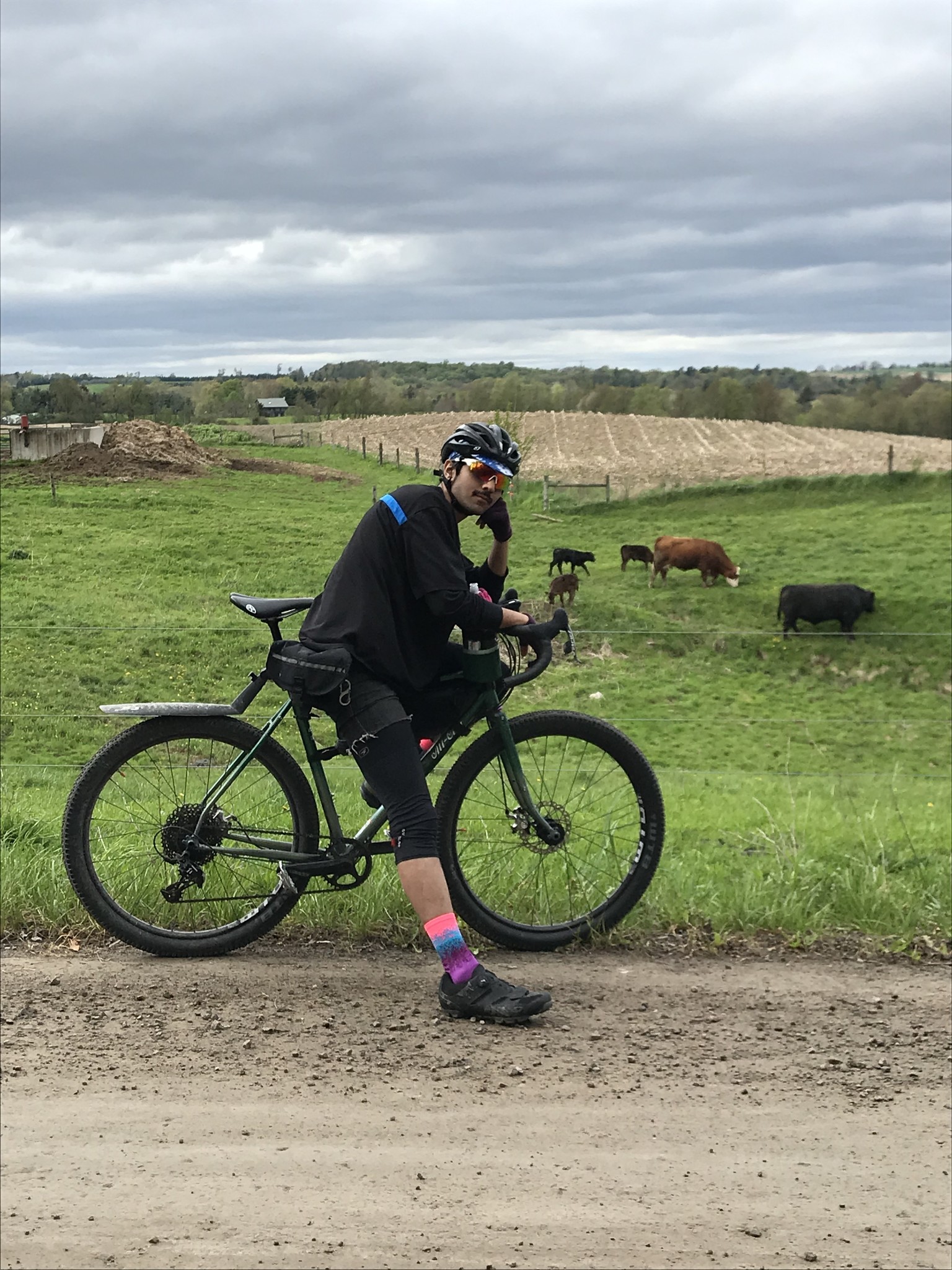 Sasha spends most of his time in the shop repairing and maintaining your bicycles to get you back on the road with freshly tuned wheels. He loves building bikes from the frame up - bonus points for 90's steel - and will inevitably put a dynamo wheel and swept back handlebars on any bike project. Also known for listening to techno and sharing photos of tiny dogs.
Current Bikes: All-City Gorilla Monsoon Custom, Early 90's Marinoni Mountain Special Basket-Commuter, 1989 Miyata 1000 LT Grocery Hauler, Mercier Kilo WT Ex-Courier Work Bike, and a Salsa Timberjack (the only one that hasn't had a dynamo on it).
Gabe (he/him), Master Sales Pal:
Gabe works in Sales! :)
Current Bikes: Velo Orange Neutrino Alfine 8, Marin Nicasio 1, Mercier Kilo WT single speed

Former Members
Not a comprehensive list. If you are a former member and want to be included in our page here send us an e-mail and a photo of yourself along with when you worked here!
Dave (he/him), Service Writer from 2015-2022: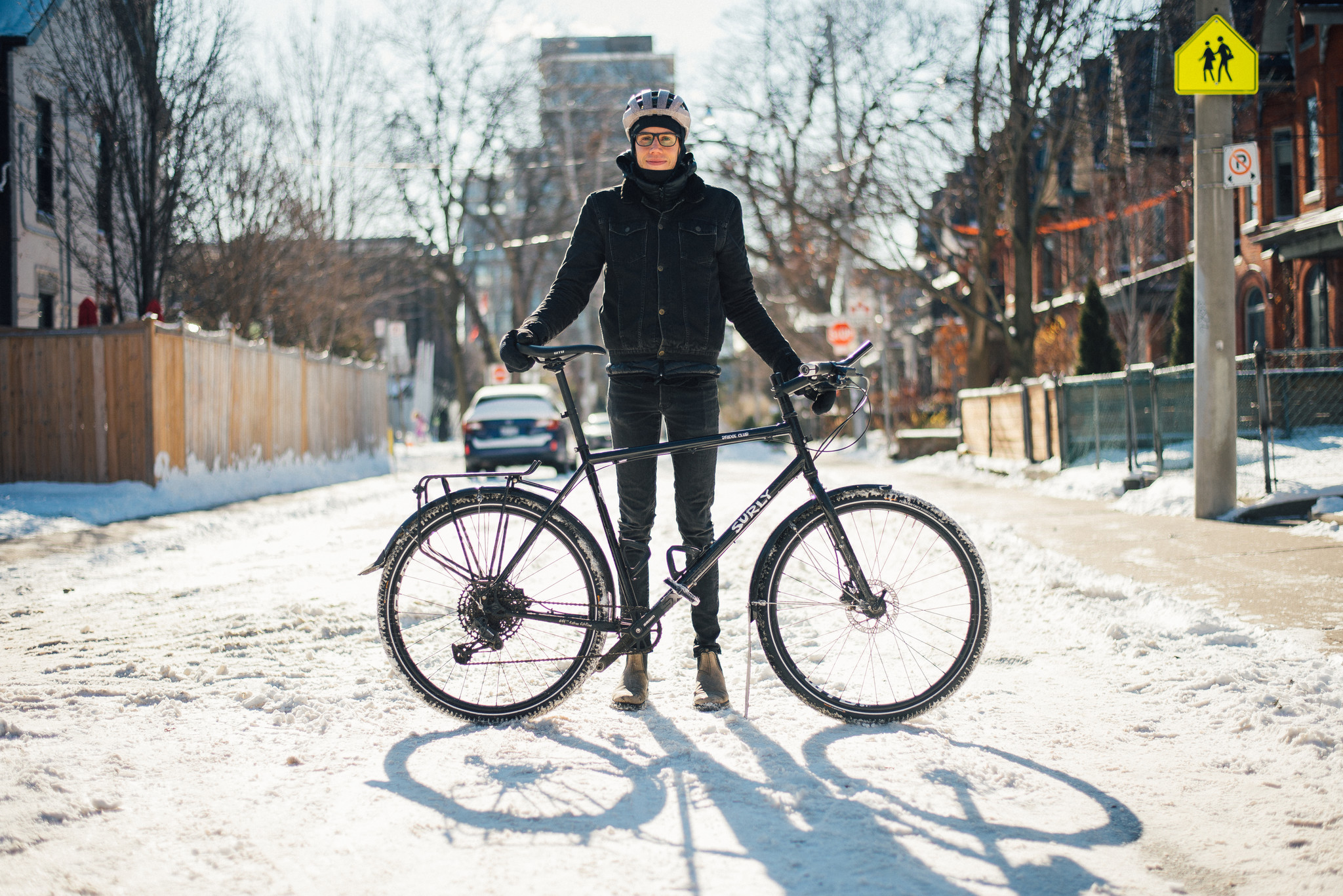 Dave is one of the main service writers at Urbane. He's usually the first friendly face you'll see when entering our service department. When not working in the shop he can usually be found riding various mountain bike trails around Ontario, bike touring or making music on his collection of synths and drum machines.
Current Bikes: All City Cosmic Stallion, Surly Bridge Club, Salsa Timberjack and a KHS Flite 100.